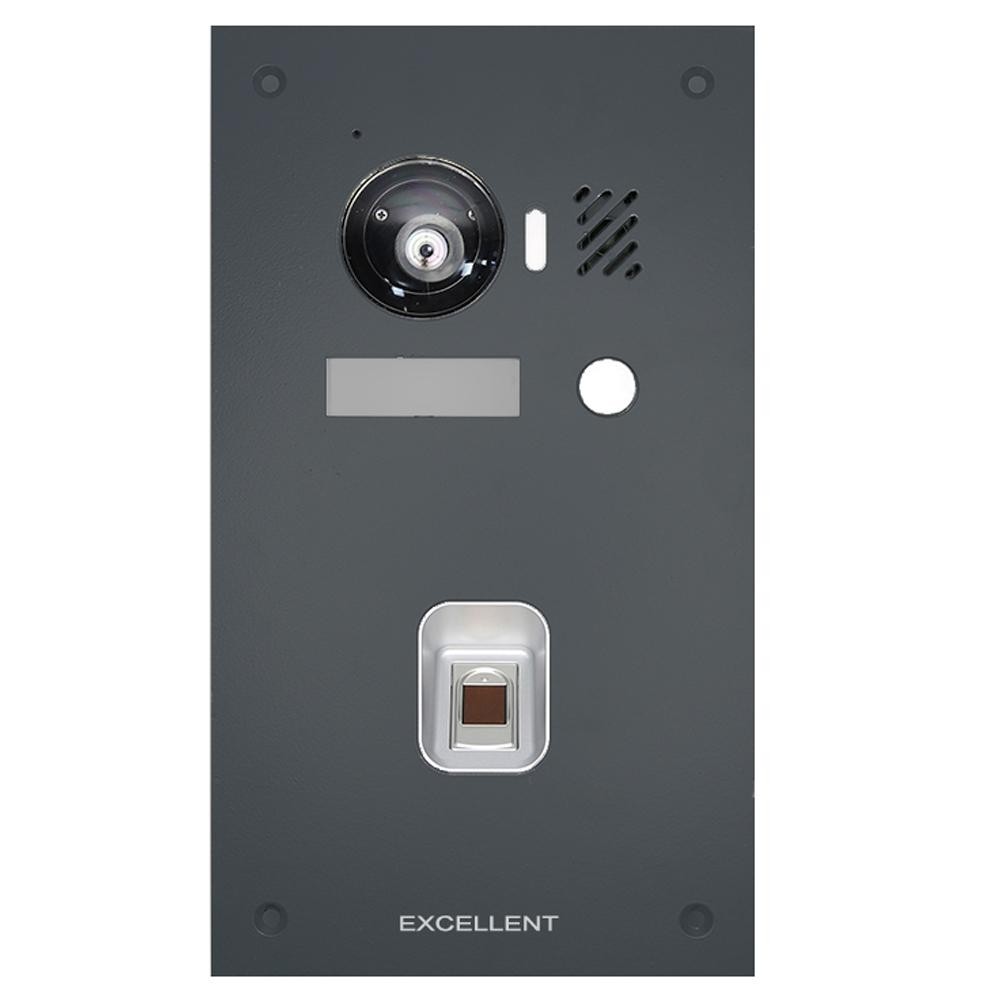 Free shipping in Germany!
Only 1 pieces in stock
Guaranteed shipping
today, 28.10.2021
Order within
5 Hours, 51 Minutes and 58 Seconds
this product.
The outdoor station is ideal thanks to a swiveling camera to see who is in front of the door. The...
more
"Excellent IP Video outdoor station 150° Camera for 1 Family house Fingerprint anthracite"
The outdoor station is ideal thanks to a swiveling camera to see who is in front of the door. The HD camera of the video doorbell has a wide-angle lens with a 150° detection range. This allows almost a 360° view of everything that happens at the door. Whether someone is present in the house or on the move, the video door station allows the door to be opened from anywhere with a smartphone or tablet. The IP system enables versatile use and easy installation. This can be done either on-wall or flush-mounted. A sabotage button, which is located on the back, secures against manipulation of the doorbell with camera.
With just a few steps you can connect your IP bell system with camera to your iPhone or smartphone. No matter where you are, once someone rings the doorbell on your door, you will receive a push notification directly to your smartphone, and you will be able to see the person standing at your door as well as talk to that person, and if necessary Open door.
Your visitors do not have to wait at your door to see you back, they can come in.
The advantages of the IP outdoor station
Since the power supply, as well as the audio and video transmission over IP LAN connection takes place, the IP bell system is mounted quickly and easily. The IP doorbell offers a lot of technical advantages:
HD camera with 1.3 megapixel resolution of 1280x960 pixels
Thanks to wide-angle lens - 150° detection area
System monitoring and control is independent of location
Cross-platform app
Door opener function is remotely controlled
Door open by fingerprint
White light LED also allows color images in the dark
A photo snapshot when ringing is adjustable
Visitors can leave messages
Settings changes are possible via network
Access module allows connection to door lock, etc.
The specifics in detail
The hands-free system with camera has a sophisticated feedback function. This means that visitors can be informed whether they are ringing or whether they should leave a message. Since this feature is available in different languages, it is also suitable for multinational use. The apps available for iOS and Android are easy to use. Controlling the door intercom with a smartphone is absolutely comfortable compared to other systems. A QR code scan allows you to quickly set up the video bell. The code just has to be scanned and the IP bell is already set up.
The fingerprint module of the video door intercom system provides the safest and at the same time easiest way to access your own home. Fingerprints can be easily stored. As soon as the finger is held in the intended area, the door opens automatically. The fingerprint scanner can be programmed with up to 3000 different impressions.
The operating menus of the IP bell system are clearly and clearly structured. This allows easy handling of the doorbell with smartphone or other mobile devices. The entire intercom system is constantly being developed. Updates can be downloaded for free. Thus, the intercom system is always up to date via IP. The individual functions of IP intercom systems include, for example:
Monitor images in real time
Adjustable frame rate of the doorbell with camera
Manual door opener function of the doorbell with video
Adjustable volume
The door station with video automatically switches between day and night
The recording duration is completely adjustable
The door opener time is also adjustable
Active suppression of echoes
The video memory function as well as the image memory can be used manually or automatically
Both ringing time, as well as talk time and mailbox time are adjustable
Group calls can be implemented
Sophisticated possibilities around the IP technology make possible a substantial extension of the IP video door intercom system.
Finally, the IP door intercom can be easily extended.
Other IP-supported cameras, WLAN cameras or various alarm systems such as gas and smoke detectors can be easily integrated into the IP video door intercom system. Special door sensors or recording devices can also be integrated into the IP intercom system.
The whole system of the IP door intercom system is perfectly suited for home surveillance.
Delivery:
1x Excellent IP outdoor station with 1.3 megapixel HD camera anthracite with fingerprint for 1 family house
1x mounting screws
1x Integrated door opener module
1x German installation manual (Download)
1x German user manual (Download)
Item no.:
EXIP1TFG
Read, write and discuss reviews...
more