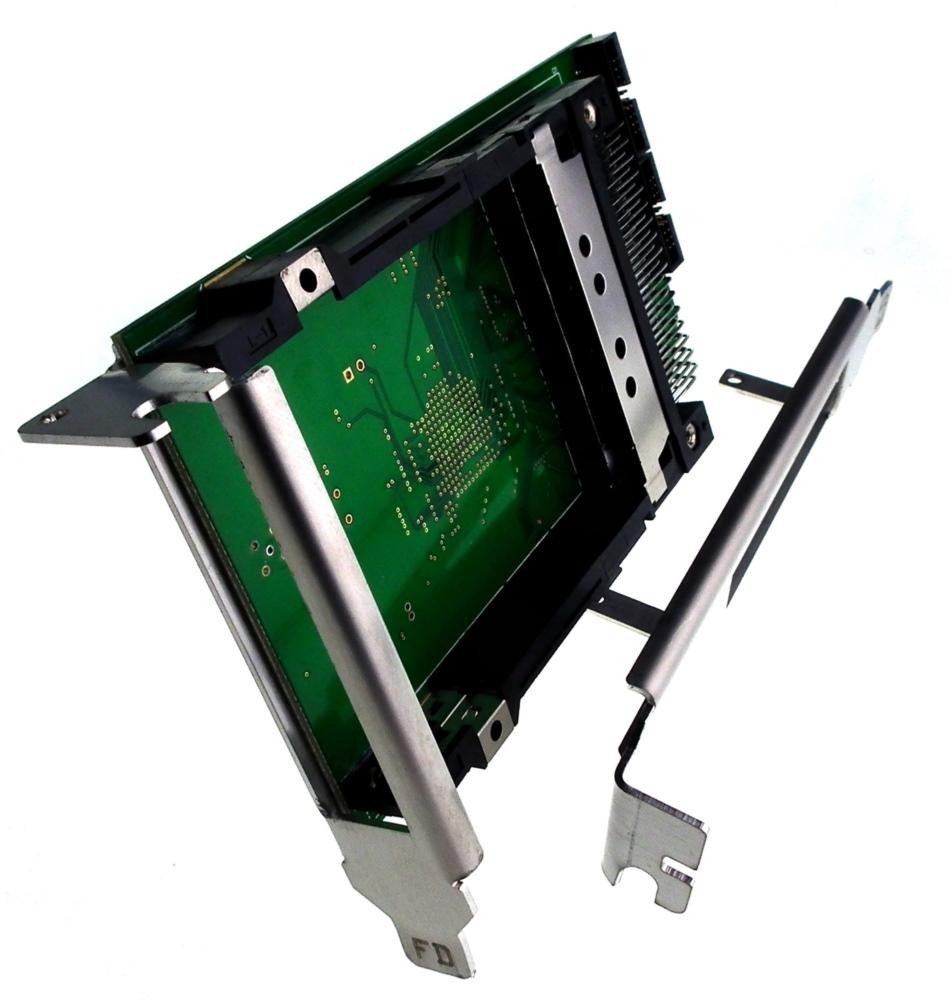 Free shipping in Germany!
In Stock
Guaranteed shipping today, 10.08.2022

Twin Common Interface Extension for all Digital Devices TV Cards. Brilliant HDTV on your PC As a...
more
"Double Common Interface (CI) extension - DD DuoFlex CI"
Twin Common Interface Extension for all Digital Devices TV Cards.
Brilliant HDTV on your PC
As a rule, users with a satellite TV or cable TV connection can receive the public TV programs (ARD, ZDF, third party programs and additionally many radio stations) in HD quality without a SmartCard. Also some private TV programs are digitally free receivable. Optional: For the complete reception of all digital programs (depending on their contract with the content provider) you use our Common Interface extension. This can be connected directly to your Digital Devices card.
The DuoFlex CI extension provides two CI slots in the system used. The DuoFlex CI can be used for the products of the Cine, Octopus and Octopus NET series. The DuoFlex CI is used to record two Conditional Access Modules (CAM). Some CAMs are capable of multi-transponder decrypting (MTD) technology, which allows to decrypt up to 4 TV channels / tuners via a single CAM (depending on the manufacturer).
The common interface extension is connected to the base card via ribbon cable. In addition, it is supplied with the supplied power adapter with power. Thanks to the supplied low-profile and full-profile slot plates, the individual installation is possible.
What is a Common Interface (CI)?
CI logic A Conditional Access Module (CAM) is plugged into a common interface interface (also known as a CI slot). In this CAM then again the smart card of a content provider is inserted. Once all components have been matched, the TV signal can be decrypted.
What is Multi Transponder Decrypting (MTD)?
Multi Transponder Decrypting is a new technology that allows to decrypt up to 4 TV channels / tuners via one Conditional Access Module (depending on the manufacturer). TV software
All Digital Devices products are supplied with the DD-TV software. Experience the many features: HD quality television, time-shifted TV, Digital Video Recorder, Electronic Program Guide (EPG), Teletext reception.
Support - Operating Systems and Software
The card comes with signed drivers for Windows XP with Service Pack 2, Windows Vista, Windows 7, Windows 8 (.1) and Windows 10 for 32-bit and 64-bit as well as driver support for Linux.
The Windows BDA driver technology enables the problem-free immediate use of the product in numerous software products. Examples are: DVB Viewer Pro, MediaPortal, also in combination with XBMC / Kodi as well as numerous other products.
Even under Linux, the use of the product in suitable software, e.g. possible in the VDR.
The Dual Common Interface can also transfer 4k content data faithfully.
Compatible with Windows Media Center
Our products are immediately complicationless under the Windows Media Center, including the optional direct support of the Common Interface.
Technical specifications:
DuoFlex CI Features: 2x CI interface
Standard connections: Power connection (Sherlock), 2 x 20 pol. Plug for ribbon cable for connection to Digital Devices DVB cards
Safety: Produced and Designed according to European standards, DIN EN ISO 9001: 2000
Environmental Standards: RoHS compliance
Power consumption: 1.8 Amp max. via 12V, LNB power, 2 watts without CAM power
Supported Operating Systems:
Linux
Microsoft Windows® XP (SP3)
Microsoft Windows® Vista
Microsoft Windows® 7 - 32/64 Bit (including Windows® Media Center 7)
Microsoft Windows® 8 (.1) - 32/64 bit (including Windows® Media Center 8)
System requirements:
Dual Core Intel® or AMD® CPU
512 MB RAM
1 - 2x free expansion port
on Cine or Octopus series
Delivery:
DuoFlex CI extension
Quick Install Guide
Manual (on CD)
Driver (on CD)
Software DD-TV (on CD)
2x ribbon cable (12 and 25 cm)
1x power adapter (Sherlock to 5 1.4 ")
2x slot plate (standard and low profile)
Item no.:
TVCIER001
Read, write and discuss reviews...
more