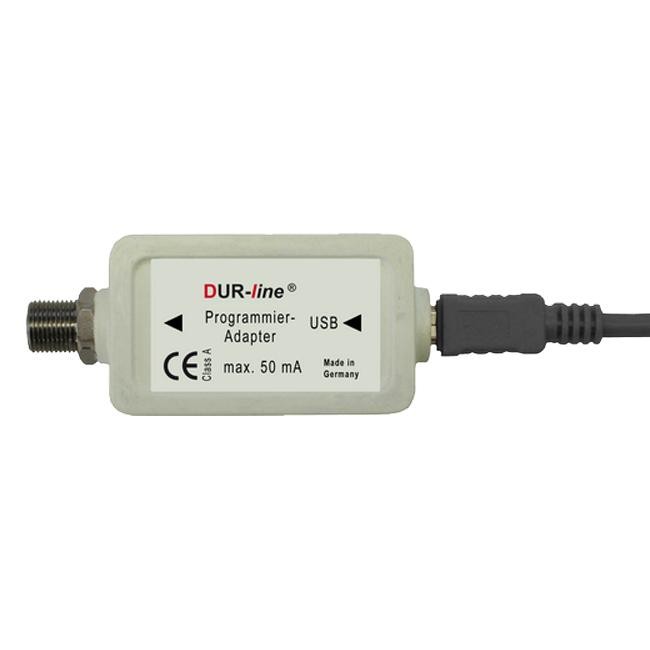 Only 2 pieces in stock
Guaranteed shipping
today, 28.09.2021
Order within
4 Hours, 17 Minutes and 22 Seconds
this product.
The programming adapter is required for the configuration of DUR-line ® programmable antenna...
more
"Dur-Line programming adapter for programmable Unicable antenna outlets"
The programming adapter is required for the configuration of DUR-line ® programmable antenna outlets. It establishes the connection between the USB port of a PC or notebook and the antenna socket. The authorizations intended for the respective connection are defined by means of the PC software "AnDoKon.exe" and stored in the box with the programming adapter. Saved authorizations can also be read out of the box. Prerequisite for the configuration program is a Microsoft operating system from Windows XP and an installation of the .NET Framework from version 4.0 (can be downloaded for free from Microsoft).
commissioning:
As soon as the programming adapter is connected to the PC / laptop via USB cable, the Windows device manager should recognize a new serial interface (COM port). The necessary drivers are normally available in the operating system by default. In the event of problems, a driver for an FTDI FT232 should be installed (www.ftdichip.com/Drivers/VCP.htm), which is used in the programming adapter. After starting the configuration software "AnDoKon.exe", it automatically searches for the connected programming adapter and configures the new serial interface.
Service:
The configuration data can be read out with the configuration software ("Read configuration" button) or transferred to the socket ("Write configuration" button). For programming, it does not matter if the cans are already installed or not. For each user band there is a status field, whereby a green field with a checkmark indicates "released" and a red field with no check mark means "blocked". The status can be changed by clicking on it. After changing the releases, the configuration must be transferred to the socket with "Write". At the bottom of the window the last status is displayed. If the field is green, the last operation was successful. If the field is red, an error has occurred. In the overview, a history history is integrated so that the data of the last programming can be seen. With each step, the data slides down one line, which allows the user bands to be clearly distributed among the different doses.
Item no.:
MONUNI005
Read, write and discuss reviews...
more