FAQ - Frequently asked questions
On this page you will find the answers to questions that customers ask us again and again. If your question is not listed, our service staff will gladly answer it. You can use our contact form or our service & order hotline 0 22 41 88 10 90 (Mon - Fri: 09.00 - 13.00 & 14.00 - 19.00). Our service staff is also happy to advise you on site in our multimedia shop (opening hours: Monday - Friday: 09.00 - 19.00 & Sa .: 10.00 - 16.00). Please also note our service center.
Top 5 Fragen
Do you also deliver to countries outside germany?
How much are the shipping costs?
The shipping costs depend on the weight, type, delivery address and the method of payment of your order. As soon as you have placed one or more items in the shopping cart and selected a shipping method, the shipping costs are displayed automatically:

What are the delivery times?
Information on the delivery times of each individual product can be found in real time on the product page. Below the article price, you can easily read the delivery time.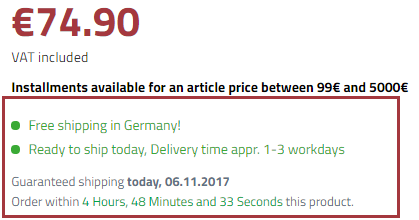 Does SatKing offer free shipping?
From a purchase value of 250.00 Euro, the shipping of your delivery is free.
Which payment options are there?
SatKing accepts cash payments by cash on delivery, prepayment, Paypal, Amazon Payments, Sofort., CreditCard, GiroPay, as well as payments in our local shop are also possible. Detailed information about the payment options can be found here.
Neue Fragen
What are "dual boot receivers"?
Dual Boot Receivers are receivers that have two operating systems. Well-known and popular examples are the Dinobot 4K+ and the Dinobot U5 Mini.
What is a quadrocopter?
A quadrocopter is a drone operated by 4 rotor blades. Two of the red leaves rotate clockwise and the other two rotates counterclockwise.
What is an octocopter?
An octocopter is a drone with eight rotor blades. Four propellers rotate clockwise here and the other four rotors in the other direction.
What is a hexacopter?
A hexacopter is a drone with six rotors. Three rotors turn clockwise and the remaining rotors rotate counterclockwise.
What does "UHD" mean?
"UHD" (Ultra HD) is four times the resolution of Full HD. The pixels in width and height are each doubled. So a resolution of 3840 x 2160 pixels is achieved.